Adventure Party Package
$
199
99 + tax
For Up To 8 Guests
$24.99 + tax Each Additional Guest

Package Includes

Decorated Party Table With Balloons For 1 Hour
Trained Party Captain To Host & Organize Party
Choice Of Three Attractions: Laser Tag Session, Go-Kart Ride, Mini Golf Game
$10 Game Card Per Guest
Two Slices of Pizza Per Guest
Unlimited Soft Drinks During Table Time
Paper Goods: Paper Plates, Spoons, Napkins, Forks, etc.
Birthday Bags With Coupons & Discounts
Printable Online Invitations

Birthday Honoree Also Receives

Birthday Mug with Group Picture
Free 3-Attraction Quest Pass
200 Redemption Ticket Voucher
$50 Non-Refundable Deposit Required To Make Reservation
Super Adventure Party Package
$
229
99 + tax
For Up To 8 Guests
$27.99 + tax Each Additional Guest

Package Includes

Decorated Party Table With Balloons For 1 Hour
Trained Party Captain To Host & Organize Party
Choice Of Five Attractions: Laser Tag Session, Go-Kart Ride, Mini Golf Game
$15 Game Card Per Guest
Two Slices of Pizza Per Guest
Unlimited Soft Drinks and Popcorn During Table Time
Paper Goods: Paper Plates, Spoons, Napkins, Forks, etc.
Birthday Bags With Coupons & Discounts
Printable Online Invitations

Birthday Honoree Also Receives

Birthday Mug with Group Picture
Free 3-Attraction Quest Pass
300 Redemption Ticket Voucher
$50 Non-Refundable Deposit Required To Make Reservation
NEW - Mega Adventure Party Package
$
279
99 + tax
For Up To 8 Guests
$34.99 + tax Each Additional Guest

Package Includes

Decorated Party Table With Balloons For 1 Hour
Trained Party Captain To Host & Organize Party
3 Hours of Miniature Golf, Laser Tag, and Go-Karts
$20 Game Card Per Guest
Two Slices of Pizza Per Guest
Unlimited Soft Drinks and Popcorn During Table Time
Paper Goods: Paper Plates, Spoons, Napkins, Forks, etc.
Birthday Bags With Coupons & Discounts
Printable Online Invitations

Birthday Honoree Also Receives

Birthday Mug with Group Picture
Free 3-Attraction Quest Pass
300 Redemption Ticket Voucher
$50 Non-Refundable Deposit Required To Make Reservation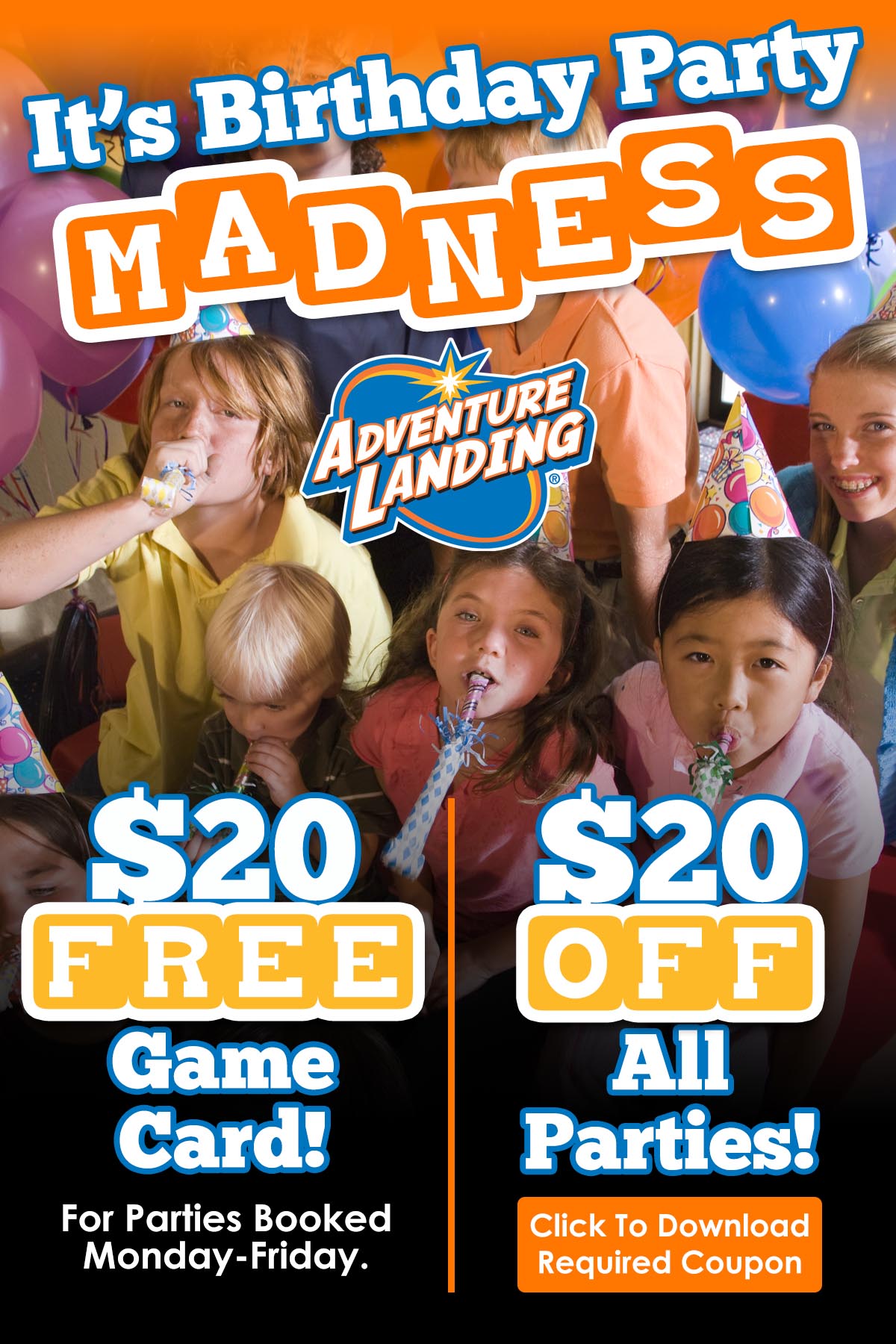 Birthday Party Tips
Consider holding your birthday party Monday – Friday when the park is less busy if that is an option.  All parties booked Monday – Friday also receive a $20 Game Card as a special bonus.
Hold your party on a Thursday evening when all game prices are discounted by 50% on our Thursday Night ½ Price Games Special.
Sign up for our Email Club at the bottom of the page to receive birthday discount coupons & special deals that you cannot get anywhere else.
Save money by printing party invitations from our website instead of buying them at the store.
Goodie bags are provided with all of our birthday party packages.  If you have special items that you want included in them, please arrive early for your party & we will stuff them in your goodie bags for you.
Kids Fun Center Party Package Trimmings
You are welcome to bring your own cake!
Call (919) 872-1688 and make your reservations today, or book online now
Do You Have Any Guests That Require Special Accommodations?  Give Us A Call Prior To Booking Today To Discuss.
*All pricing is plus tax
*There is a non-refundable $50.00 deposit for each party
*Reservations are required and 72 hours is preferred
*Book your party as early as possible to reserve the date and time you want – space is limited!